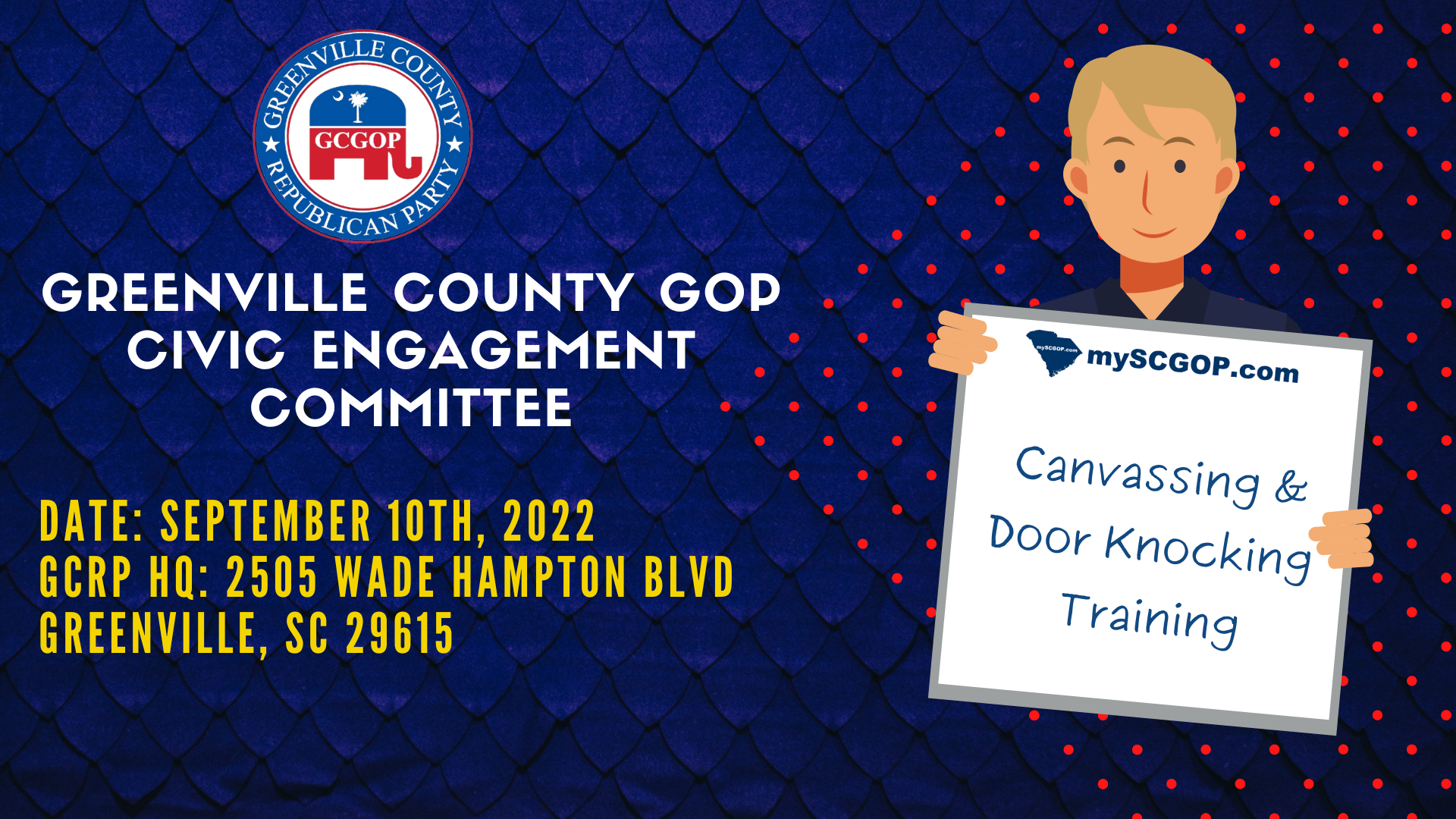 Join the Greenville County Republican Party Civic Engagement Committee at a Canvassing & Door Knocking Training.
The 2022 elections are upon us and we will need to support and volunteer for strong conservative candidates!
Let's learn how we can help!
What You Will Learn:
This course will teach you the basics of canvassing, setting up an agenda, training people to go door knocking, and tips for effective and safe door knocking efforts.
Canvassing refers to going door-to-door in a neighborhood and having conversations about important issues with community members. This training will walk you through each step of the process and provide you with all the resources you'll need to be successful. It is an essential component of organizing. We use canvassing to talk to voters about issues that matter to them, spread our message and recruit new volunteers. The course includes a 2-hour canvassing activity followed by a debrief of learning.
Instructor: Donna Gotschall
The Training Class will run from 9:30 am to 2:30 pm
9:30 – 10:00 Registration, Coffee/Donuts, Social Time, Find Your Seat
10:00 – 11:00 Canvassing & Door-Knocking Training in Classroom Using Smartphone/Tablet/PC
11:00 – 2:00 "Hit the Street and Knock on Doors!" 2-persons per team, 2-teams per group leader. The location will be provided for your canvassing route along with a script and information to be handed out. Expect to knock on 30-40 doors in 2 hours.
2:00 – 2:30 "Debrief at Greenville County GOP Headquarters. Celebrate & Share Learning!
2:30 – Adjourn