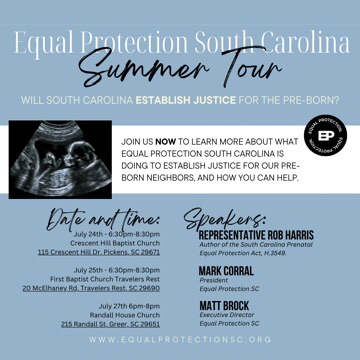 Will South Carolina establish justice for the pre-born?
Join us for a very important meeting to learn more about what Equal Protection South Carolina is doing to end legalized abortion in South Carolina, and what you can do to help.
Thursday, July 27, 6PM-8PM – Randall House Greer, 215 Randall Street, Greer, SC
Guest speaker: State Representative Rob Harris – Freedom Caucus Member and Author of the South Carolina Prenatal Equal Protection Act of 2023, H.3549.
Other speakers include:
Mark Corral
President of Equal Protection South Carolina
Matt Brock
Executive Director of Equal Protection South Carolina