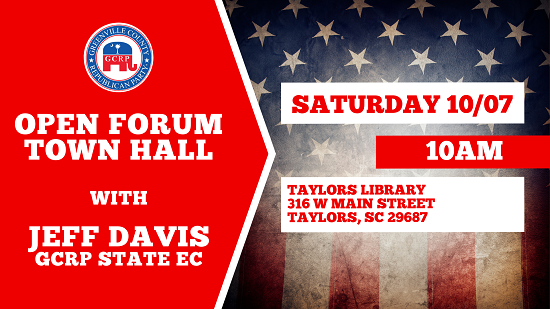 Join Greenville County Republican Party for an open form Town Hall with GCRP State Executive Committeeman, Jeff Davis. If you have questions, complaints, grievances, suggestions, this is your opportunity to be heard and converse with a GCRP Executive Board member.
Folks like to "complain" online and via Social Media … and Jeff has been offering to meet with anyone, anytime, publicly or privately, on or off the record (and sign any legal release if requested) … whether they are Democrats, RINOs, Uniparty Members, or anyone with a personal grievance … no limits … so to make it even easier we have scheduled this OPEN FORUM (and he will do it as many times as necessary) to allow anyone to ask anything you like.  Openness and Transparency are the hallmarks of good governance, so ask anything you like, it should be FUN!!!  #Freedom!!!
Again, no questions are off limits! Join us!
Saturday, October 7th, 2023, 10AM, Taylors Library, 316 W Main Street Taylors, SC 29687
NOTE:  GCRP Business Meeting, Trainings, Coffee & Politics, and other events are not the place to cause disruption over personal grievances.