Join the Greenville County Republican Party TODAY!
#ReOrg2023 (March 27th, 2023 @ 7:00PM)
Check-in @ 6:00PM
#2 Find your Location
Find the Meeting Location for your Precinct
#3 Come Vote!!
March 27th, 2023 @ 7:00PM
( Check-in @ 6:00PM )

Bring your Voter ID, Photo ID
Bring Neighbors!
All registered voters come and participate! 
Participation ensures you have a voice in your County and State government.
This is your opportunity, make a difference in your community!
Contact us for any questions: team@GreenvilleGOP.com
Membership
Join the Greenville County Republican Party and help us further the America First / Freedom Caucus / SC Republican Platform agenda!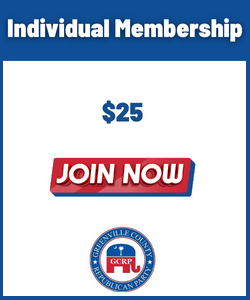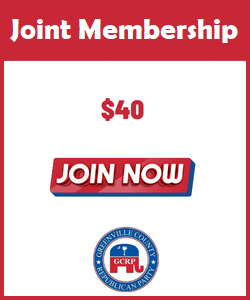 One Time Donation
Do you enjoy life, liberty, and the pursuit of happiness?  Then help us further the America First / Freedom Caucus / SC Republican Platform in the Great State of South Carolina!
Precinct Reorganization (ReOrg)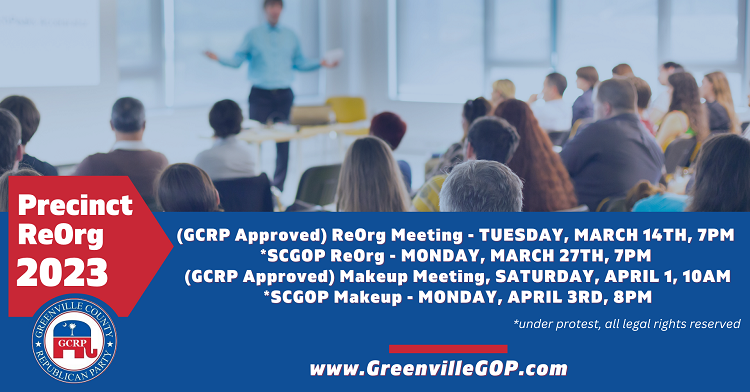 GCRP Approved ReOrg Meeting – TUES MARCH 14TH, 7PM

*SCGOP ReOrg – MONDAY MARCH 27, 7PM
* Under Protest, All Legal Rights Reserved
Dear GCRP Members & Friends,
It is complicated, and should not be, but this is what we are dealing with in the SCGOP.  (Read about it HERE, HERE & HERE).
We will play along with the SCGOP games … although we will do so under protest and reserving all legal rights.
What the SCGOP is doing appears to be clearly illegal per the article above, but y'all know that is what we have been dealing with for two years … and now FINALLY the entire state is seeing it.  The entire state is seeing the drama … and the public is clearly seeing that this fiasco is all about "them" retaining power and control … not about We The People.  It is driving people to our "side", which is  good thing!!!
But enough of that drama … we are #Winning … so let's get down to business!!!
March 1st SCGOP Email Update:  The SCGOP has not returned a single phone call or email to the GCRP Executive Board … but late Wednesday we did receive the following update.  It is GREAT NEWS as we have lots of time to prepare and do everything we need to do.
SCGOP REORG 10 REGIONAL MEETINGS – 3/27/2023:  The SCGOP wants to hold their ReOrg meeting on Monday March 27th at 7PM.  There will be 10 different locations (see below).  We are gearing up and this will be a HUGE GCRP MEMBERSHIP DRIVE … so exciting times!!!  Come out and enjoy the process and bring all your neighbors and friends.  Let's make this huge!!!
Pre-SCGOP / GCRP Approved ReOrg Meeting  – 3/14/2023:  More info coming now that we have dates, but do not cancel your 3/14 meetings.  Regardless of what the SCGOP is saying, we are still encouraging all precincts to hold, as approved and scheduled by your GCRP Executive Committee and required by law, your precinct meetings on Tuesday March 14th at 7PM.  This is what SC Code Section 7-9-70 requires, so have a pre-BBQ, meet your neighbors, go through the process / agenda, and have a great time.  Use this as an organizational meeting with your Precinct and kill two birds with one stone.  Stay tuned for more info.
ZOOM TRAINING CALLS COMING!!!  We had a great live training on Saturday at the Hughes Main Library, and now that we have some direction on what the SCGOP wants, we will be scheduling several ZOOM / HQ Open Forum Q&As.  The last one (HERE) was a ton of fun, so stay tuned.
Here is the SCGOP email update: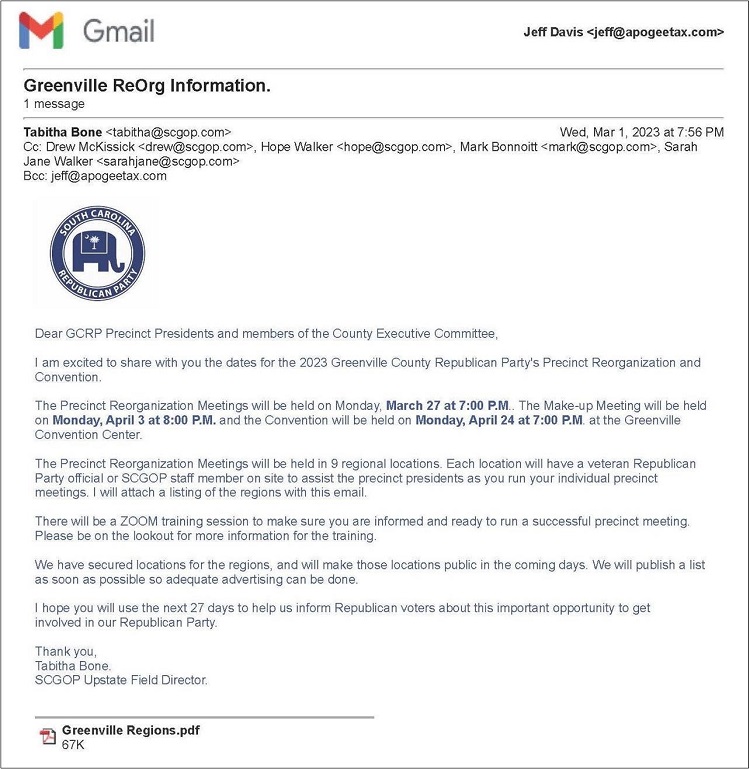 SCGOP 10 Regions List:  This is what the State Party sent us. They are missing the Enoree Precinct, so expect an updated list, but this is the general framework.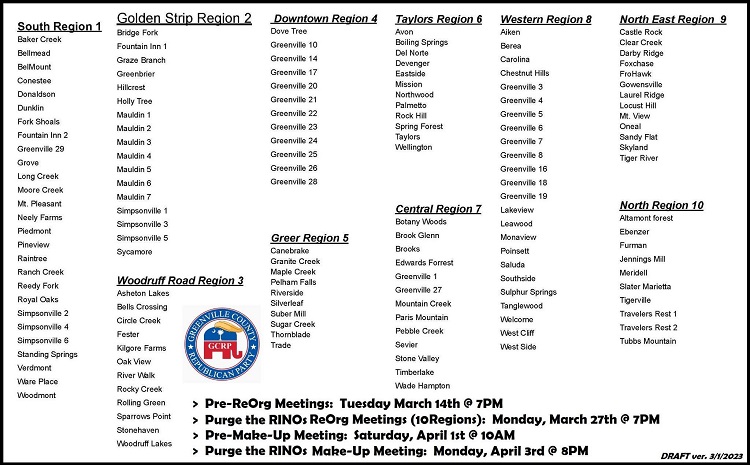 Precinct Delegate Count by Precinct:  Click HERE or see images at the bottom of this email to see how many delegate your precinct has.
We could NEVER get this from the "old guard" establishment in the past.  #Transparency!!!
NEED PRECINCT MAPS???  We got them for you!!!
For Greenville Precinct Maps click HERE or image below.
Let us know if you have any comments or questions: team@GreenvilleGOP.com.
These are exciting times and we are looking forward to working with everyone on the best ReOrg Season yet!!!
#PressON
Email or call us with any questions or concerns.  team@GreenvilleGOP.com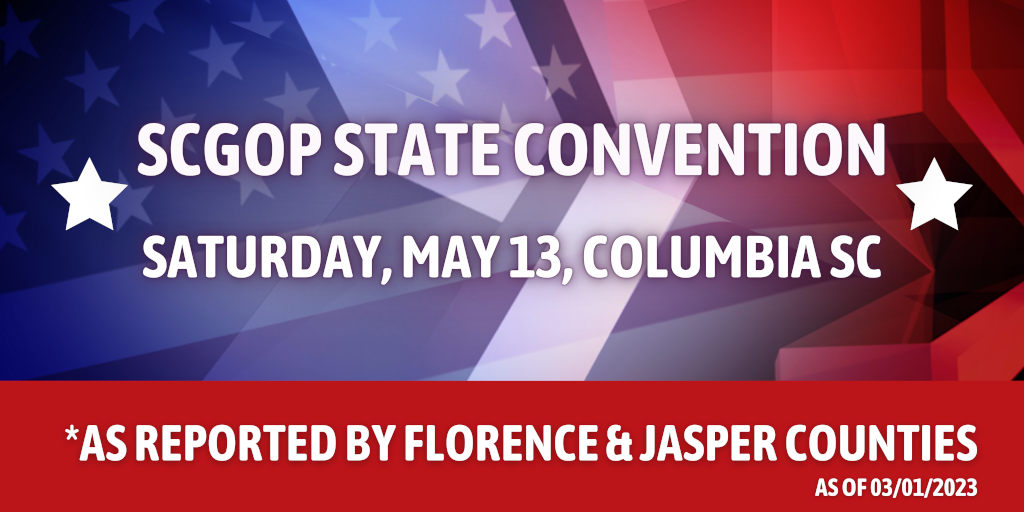 ReOrg Locations
See the Regions List above to find out which region your precinct is in
South Region 1
Robert E. Cashion Elementary
1500 Fork Shoals Rd. Greenville, SC 29605
Golden Strip Region 2
Mauldin First Baptist Church
150 S Main St. Mauldin, SC 29662
Woodruff Road Region 3
Bells Crossing Elementary
804 Scuffletown Rd. Simpsonville, SC 29681
Downtown Region 4
The Sanctuary Church
302 Parkins Mill Rd. Greenville, SC 29607
Greer Region 5
Praise Cathedral Church of God
3390 Bushy Creek Rd. Greer, SC 29650
Taylors Region 6
Eastside High School
1300 Bushy Creek Rd. Taylors, SC 29650
Central Region 7
Faith Baptist Church
500 W Lee Rd. Taylors, SC 29687
Western Region 8
Greenville County Library System | Hughes Main Library
25 Heritage Green Pl. Greenville, SC 29601
North East Region 9
Skyland Elementary
4221 SC-14, Greer, SC 29651
North Region 10
Travelers Rest City Hall
125 Trailblazer Dr. Travelers Rest, SC 29690